Computers for learning with One Laptop per Child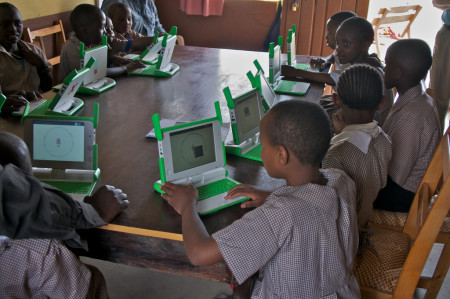 Since 2010 when KCEF first partnered with One Laptop per Child , KCEF has provided more than 150  inexpensive, battery powered "XO" computers to our schools. OLPC is  dedicated to bridging the technological gap between the first and third worlds through computer education.  These small but powerful computers come loaded with a wide variety of educational programs. There are currently over three million OLPC computers in use in third world countries.
KCEF has also provided training for teachers at all schools in the use of  these computers as well as the internet.  All schools have used the computers effectively to augment curriculum from language and math skills to keyboarding skills.
Internet connection is made through a BRCK a device created in Kenya which connects up to 20 computers to the internet.  Recently Kenya created online curriculum designed to aid in the preparation of the high stakes National exam which determines students' future beyond grade 8. Implementation of these educational tools should be in place by the beginning of the January 2017 term.
Our most recent pilot program involves  a KIO KIT which includes 40 tablets and a BRCK which, like the XO computer, opens a whole new world of educational opportunities to both students and teachers.
OLPC Training 
Christian Kakoba, our OLPC advisor, conducted training for teachers and students.  Games and competitions in computer use led to the awarding of prizes to twelve computer champions from varied grade levels.
How can I help? By purchasing additional computers and computer services.