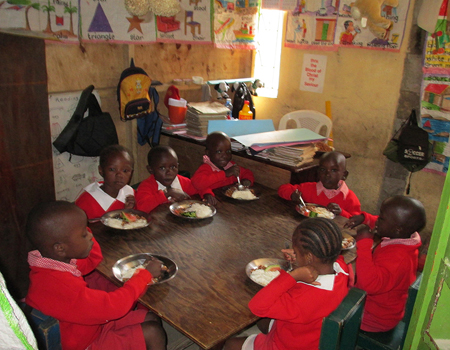 Because nutrition is so essential to child development physically and educationally, KCEF is committed to support schools with programs that ensure each child is fed. We followed the lead of Esther Waweru (the founder of Gentle Bells) who, early on, established a program of simple but nourishing meals for all students. For some impoverished children, this breakfast and/or lunch may be their only meal of the day.
The land purchased for Gentle Bells provided the opportunity to develop a large vegetable garden to supply the feeding program. Farming God's way (Care of Creation) enhances garden production and yield with minimal water use of water.
KICOSHEP, Mawewa, and Blessed Children's Centre provide one or two meals a day for all students. Karem School also ensures that no child goes without a noontime meal.
How can I help? A child can be fed for a month with a $25 donation.